How Concrete Driveway Coating Can Help You in Upgrading your Driveway
Are you looking to enhance the look and feel of your driveway? Concrete driveway coating is an easy way to make a lasting impression on visitors. Not only do they add a unique aesthetic, they also protect concrete surfaces from weathering and wear. At (Business Name), we have been providing expert solutions for concrete coating treatments for many years – giving homeowners the perfect balance between beauty and practicality that will last year after year. Discover how our high-quality services can help transform your driveway today!
An Overview of Concrete Driveway Coatings – What They Are and How They Can Help 
If you're looking to enhance the look of your home's exterior, one area that often gets overlooked is the driveway. A concrete driveway coating can not only add to the curb appeal of your home, but also provide practical benefits, such as durability and protection. These coatings come in a variety of textures and colors, making it easy to find one that suits your aesthetic preferences. Additionally, they can help prevent cracks and stains from forming, which can save you time and money in the long run. Whether you're looking to add some flair to your property or simply want to extend the lifespan of your driveway, a concrete coating may be the solution you've been looking for.
Benefits of Applying a Concrete Coating to Your Driveway 
If you're looking to increase the life of your driveway and improve the overall look of your home, applying a concrete coating is a smart move. Not only does it provide a durable layer of protection against harsh weather conditions and wear and tear, but it can also enhance the aesthetic appeal of your property with a variety of color and texture options. Plus, with the added slip-resistant feature, you'll feel safer walking on it during those wet, rainy days. So, whether you're looking to boost your curb appeal or simply give your driveway a functional upgrade, a concrete coating is definitely worth considering.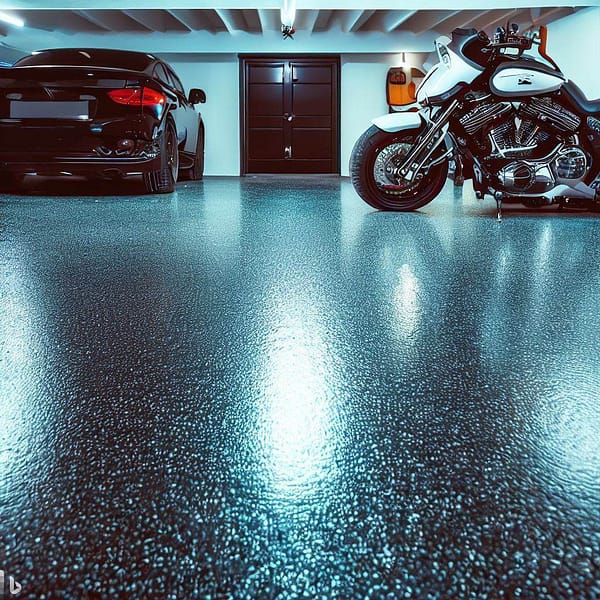 Steps for Preparing Your Driveway Before Applying a Coating 
Preparing your driveway before applying a coating is an essential step for ensuring a smooth and flawless finish. Before you start, make sure to clean and remove any debris or oil stains that could interfere with the bonding process. Fill any cracks or holes with patching material and let it dry completely before proceeding. Once the surface is dry and free of any imperfections, use a pressure washer to rinse off any remaining residue and dirt. Finally, apply a primer to ensure the coating sticks evenly and lasts longer. By taking these steps, you can enjoy a fresh and durable driveway for years to come.
Choosing the Right Concrete Coating for Your Needs 
When it comes to choosing the right concrete coating, you want to make sure you're selecting a product that meets your specific needs. Whether you're looking for a coating that offers durability against heavy foot traffic or can withstand harsh chemicals, there are plenty of options available. It's important to consider factors such as the type of surface you'll be coating, the environment the coating will be exposed to, and the level of maintenance required for upkeep. With so many choices on the market, doing your research and consulting with experts can help you make an informed decision that will provide long-lasting protection for your concrete surface.
Tips on Installing a Durable and Long-Lasting Concrete Coating 
If you're looking concrete coating installation that will last for years to come, there are a few tips you should follow to ensure its durability. First and foremost, it's crucial to properly prepare the surface before applying the coating. This means thoroughly cleaning and repairing any cracks or chips in the concrete. Additionally, choosing the right type of coating is essential. Epoxy and polyurea coatings are popular options for their strength and longevity. And lastly, be sure to follow the manufacturer's instructions carefully when applying the coating. Taking these steps will help ensure that your concrete coating will stand the test of time and withstand wear and tear.
Maintenance Tips to Keep Your Coated Driveway in Great Shape
Your driveway is more than just the entrance to your home or business – it's an investment in your property. One of the best ways to protect this important investment is through regular maintenance of the driveway's coating. Not only will this extend the lifespan of your driveway, but it will also enhance its appearance. While there are several different types of coatings, the maintenance tips remain largely the same. By regularly cleaning and removing debris, repairing cracks and damage quickly, and resealing as needed, you can keep your coated driveway in great shape for years to come.
Concrete coatings are a great way to protect and enhance your driveway's appearance. They can make your driveway more attractive and increase its value. With the proper preparation and installation, these coatings will last for years and require minimal maintenance. By understanding the different types of coatings on the market, you can make the right choice for your needs. Taking some preventive steps before applying a coating is also essential. Following all of these tips will give you a concrete driveway coating that looks great and stands up to the elements for many years to come.
(210) 305-8583