How to Transform Your Patio Into an Eye-Catching Showpiece with Epoxy Patio Floor
Looking to add a modern touch and low-maintenance surface to your patio? Epoxy patio floor may be the perfect solution for you. With its smooth texture, rich colors, and easy installation, epoxy can turn any ordinary patio into an eye-catching outdoor entertaining space. Durable and stylish, these floors will last through many seasons of cooking out with friends or nights relaxing around the fire pit – all while looking brand new! In this blog post, we'll discuss why epoxy is a great choice for patios and how to install it from start to finish in order to create a stunning showpiece look that lasts for years.
Steps to Preparing Your Patio Floor for an Epoxy Coating
When it comes to getting your patio floor ready for an epoxy coating, there are a few key steps that must be taken in order to ensure that the coating adheres properly and looks great for years to come. The first step is to thoroughly clean the surface of your patio floor, removing any dirt, dust, or debris. Next, you'll need to apply a special concrete etching solution to create a rough surface that the epoxy can bond to. Once the floor is etched, you can fill any cracks or holes using concrete filler, allowing it to dry completely before moving on. The final step is to apply the epoxy coating, following the manufacturer's instructions carefully. A beautiful, durable patio floor will not only impress your guests but can also add value to your home.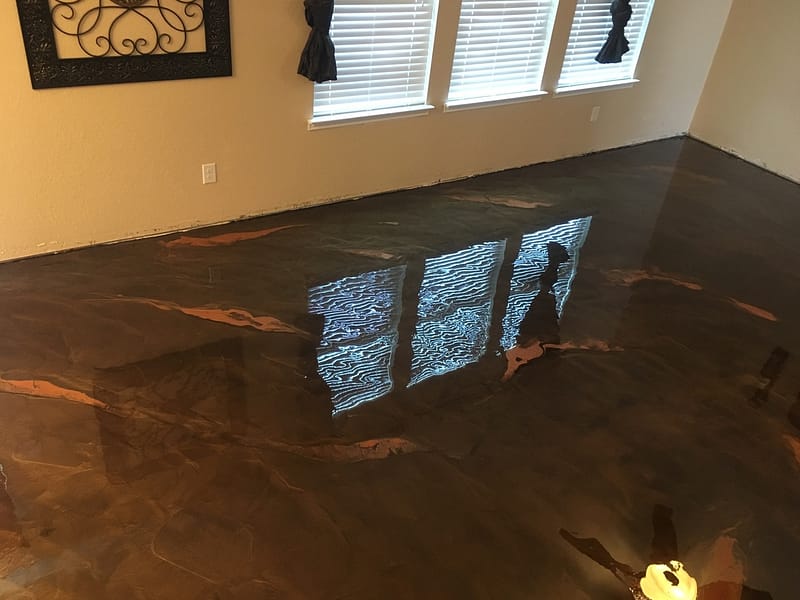 Choosing the Right Epoxy Product for Your Desired Look
Epoxy products are a versatile and durable solution for a range of applications, from industrial floors to home renovations. However, with so many options available, it can be challenging to find the right epoxy product for your desired look. Selecting the correct epoxy product is crucial to achieve an optimal outcome. Factors such as the type of substrate, the temperature, and humidity of the environment, as well as the required finish, all play a role in determining which product to use. Seeking expert advice can help you narrow down your choices and ensure that you choose the right epoxy product for your specific needs.
How to Properly Apply a Durable Epoxy Coating on Your Patio Floors
If you're looking to enhance the appearance and durability of your patio floors, applying the epoxy coating is a great option. However, it is important to know how to properly apply it to ensure the best results. Before beginning the application process, make sure the surface is clean, dry, and free of any debris. It's also important to choose the right type of epoxy coating for your specific needs. Once you have selected the appropriate coating, follow the manufacturer's instructions carefully for mixing and application. Be sure to apply the epoxy in thin coats to avoid bubbles or cracks, and allow each coat to fully cure before applying the next.
Tips for Caring For and Maintaining Your Newly Installed Epoxy Flooring
Epoxy flooring is a popular flooring option for its durability, longevity, and sleek appearance. Whether you've just installed a shiny new epoxy floor in your home or in a commercial space, it's important to maintain it properly to keep it looking its best. Regular cleaning and maintenance can prevent scratches, scuffs, and other damage that can detract from the attractiveness of your floor. To care for your epoxy flooring, be sure to sweep or dust mop regularly, avoid using abrasive cleaning agents, and promptly clean up spills or stains. With proper care and maintenance, your epoxy flooring will remain beautiful and functional for years to come.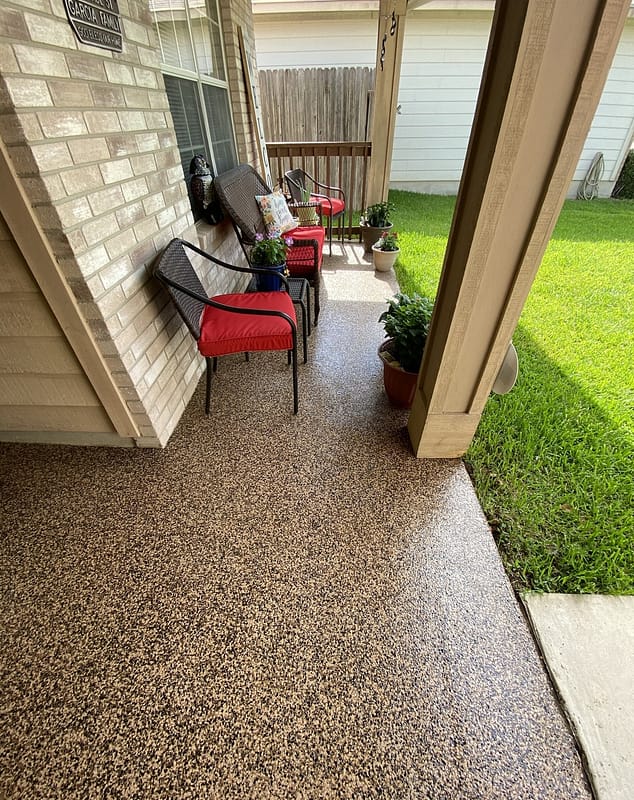 Learn the Different Design Options You Can Create with Epoxy Flooring
Epoxy flooring has gained popularity over the years due to its durability, versatility, and aesthetic appeal. With this type of flooring, you can create a wide range of designs that can suit any space, be it commercial or residential. The beauty of epoxy flooring is that it can be customized to resemble anything from marble to wood to a plain, solid color. Additionally, you can play around with patterns, textures, and finishes to create a unique look that matches your personal style. Whether you want a sleek and modern design or a warm and inviting one, epoxy flooring can help you achieve your vision.
All in all, epoxy patio flooring is an excellent addition to any outdoor space. Not only does it improve the look and feel of your patio, but it also provides a durable and easy-to-maintain surface for years to come.
(210) 305-8583