Transform Your Garage With Polyaspartic Garage Floor Coating
For those in the market for an attractive, durable flooring solution for their garage, polyaspartic coatings are a perfect choice. Offering superior strength and long-lasting protection from wear and tear, these coatings offer optimal coverage to protect your concrete while still being aesthetically pleasing. Our Polyaspartic garage floor coating products are designed to provide a complete transformation of your garage space with colors and patterns that can be customized to suit your individual style. With their superior abrasion resistance qualities, this is one product that will keep your floors looking as beautiful as the day you applied them for years to come.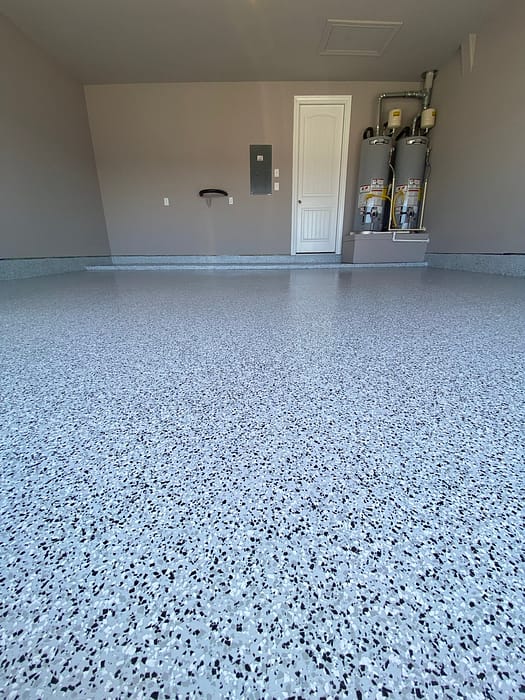 What are Polyaspartic Coatings and How Can They Benefit Your Garage Floor
Polyaspartic coatings are high-performance coatings that are becoming increasingly popular for use on garage floors. These coatings are made from a combination of polyaspartic esters and aliphatic polyisocyanates, which together create a strong, flexible, and durable surface that is resistant to wear, stains, and chemicals. One of the key advantages of polyaspartic coatings is their quick curing time, allowing the coating to be applied and ready for use in a very short period of time. The result is a protective layer that will not only enhance the appearance of your garage floor but also safeguard it against damage from daily wear and tear, spills, and harsh chemicals. So, if you want to invest in a long-lasting coating that will provide both protection and style to your garage flooring, a polyaspartic coating is definitely worth considering.
Preparing for Installation of a Polyaspartic Coating
Preparing for the installation of a polyaspartic coating requires careful attention to detail and a comprehensive understanding of the coating material. As a professional, you understand that polyaspartic is a two-part coating system that requires precise mixing ratios and proper application techniques. Prior to installation, it is essential to properly prepare the surface, removing all contaminants and ensuring a smooth, even surface. Additionally, proper safety equipment and ventilation must be in place, as polyaspartic coatings emit strong fumes during installation.
Choosing the Right Color and Finish for Your Garage Floor Coating
Choosing the right color and finish for your garage floor coating can make all the difference in the appearance and functionality of your garage. A durable and visually appealing garage floor coating can enhance the value of your property, protect your concrete from damage, and provide a safe and easy-to-clean surface. When selecting a color and finish, it is important to consider your personal preferences, the style, and design of your garage, as well as the type of activities that will take place in the space. With a range of options available, from understated neutrals to bold and vibrant colors, and matte to high-gloss finishes, you can customize your garage to meet your specific needs and tastes. A professional contractor can help guide you through the decision-making process and ensure the installation is done with precision and expertise.
Installing Your Polyaspartic Coating with Professional Precision
When it comes to installing a polyaspartic coating, precision is key. This high-performance flooring option requires attention to detail and expertise to achieve a flawless finish. Our team of professionals has years of experience working with this material and is equipped with the tools and knowledge necessary to ensure a smooth and efficient installation process. We understand the importance of meeting deadlines and delivering quality workmanship, which is why we take extra care in preparing the surface and applying the coating with the utmost precision. With our help, you can be confident that your polyaspartic coating will not only look great but also perform at its best for years to come.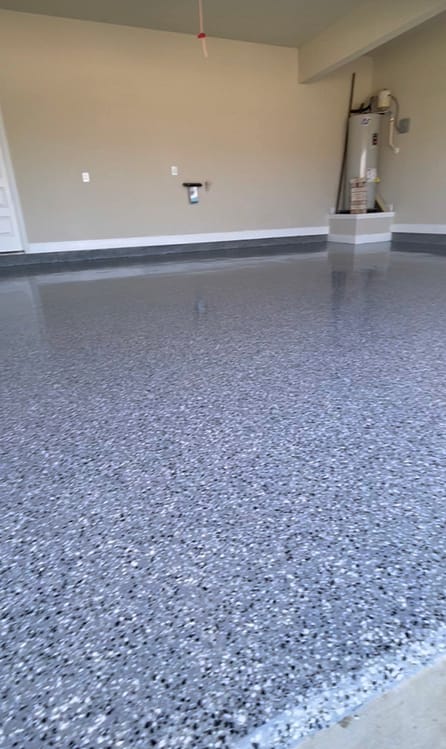 Caring For and Maintaining Your Polyaspartic Garage Floor Coating
You made the investment to upgrade your garage floor with a polyaspartic coating, and now you want to be sure it lasts as long as possible. Proper cleaning and maintenance are key to preserving the appearance and durability of your garage floor. Regular sweeping or dust mopping can help prevent dirt and debris from scratching the surface. For tougher messes, a gentle cleaning solution of warm water and mild detergent can be used. Avoid using harsh chemicals or abrasive cleaners, as they can damage the coating. With the right care and attention, polyaspartic garage floor coating installation can provide many years of reliable service.
In conclusion, a polyaspartic coating is an effective way to transform any garage floor. Homeowners should take the time to research the best product for their specific needs and prepare appropriately for installation. With proper installation and care, this type of coating can easily last 10-15 years. So go ahead – choose polyaspartic coatings and make it part of your DIY project today!
(210) 305-8583