Garage Epoxy Flooring

in San Antonio, TX
Polyurethane/ Flake Epoxy Flooring Systems
Tired of that dusty, oil-stained concrete? Garage Epoxy flooring is easy to clean,  Garage flake flooring is great for residential, commercial, and industrial settings. Garage Epoxy flooring is a 2-day system with a polyurethane top coat. There is also garage epoxy flooring options top-coat like Polyapartic and polyurea coatings. Transforming the look of any garage floor into a respectable, clean area. Garage Cabinets and overhead racks are also available. Call for a free quote or get an online estimate now for garage epoxy flooring!
Contact and Schedule your Flooring Project Today!
Fast and Affordable Epoxy Flooring in San Antonio, TX
A breakdown

for what Garage Epoxy is
An epoxy coating is one of the toughest and most durable finishes that can be applied to a garage floor today. It not only protects your garage floor, but it can also transform your boring concrete floor into a beautiful and functional area. With garages becoming more than just a place to park a car, garage floor epoxy has become one of the most popular garage flooring options. There is a wide range of garage floor coating systems available, including understated colors, metallics, and blends of color flakes that can match your style, home, and even your favorite sports team.
We will discuss what epoxy coatings are, how they are applied, and some of the costs associated with them. We will also provide examples of where you can purchase quality coatings and DIY coating kits that we have reviewed and can recommend.
Epoxy

Coatings for Garage Floor
Besides looking nice, epoxy coatings create a very durable and easy-to-clean the decorative surface that is very durable and easy to maintain. If oil spills on the surface or a bicycle falls over, you won't have to worry about damaging or staining it. It's resistant to impacts, chipping, chemicals, stains, and surface abrasion. Also, thicker coatings cover up minor imperfections like spider cracks and concrete flaws.
A great benefit of epoxy is that it is a concrete sealer
This means that it will seal out at the surface as well. Additionally, epoxy floor coatings are easy to clean. When the floor is dry, dirt and debris can be collected with a dust mop or soft broom. Mechanics and hobbyists also highly recommend epoxy coatings. Since it is both chemical and stain-resistant, oil, brake fluids, antifreeze, gasoline, and other caustic car chemicals can easily be wiped up without worry – even after sitting for a while. The epoxy coating is also anti-dusting because it is a topical sealer.
Finally, epoxy's high gloss and lighter colors reflect overhead and natural light, making the work environment brighter and more efficient. Despite heavy rolling toolboxes, floor jacks, and jack stands, garage floor coatings hold up quite well! Any rolling steel wheels, as well as jack stands, will not damage or scratch most coatings if they are not rough scarred up or slid across the floor without care.
Essentially, epoxy flooring is a 2-part coating made by mixing one part colored or clear epoxy resin with one part polyamine hardener. A chemical reaction occurs upon contact between the two parts, causing the hardener to act as a catalyst, which begins the exothermic curing process. This process forms cross-linked polymer structures that give epoxy its superior strength and durability.
You can also apply decorative color flakes and a high-performance clear coat over the colored epoxy coating. The clear coat protects the decorative color flakes and color coat. Commercial quality garage floor coating systems can last ten to twenty years on a garage floor with this combination of coatings. There is also the option of a metallic epoxy coating if you don't want the traditional epoxy look. You can also apply a high-performance clear coat. The clear coat protects any epoxy coating from wear and tear and adds to the overall longevity of the floor.
Does

the Garage Floor Epoxy get slippery?
When dry, most floor coatings are not slippery. However, epoxy and other coatings can become slippery when wet but so do most floors like ceramic tile, VCT, and others. usually, the glossier a coating is, the more slippery it can be. While color flakes broadcasted into the epoxy floor can add texture to a coating and make it slightly less slippery, they are not a substitute for an anti-slip surface. If wet grip and non-slip are a concern, then an anti-slip medium should be mixed in.
Other Concrete Coating Options
As a decorative coating for a garage, epoxy is not the only option. It is simply the most well-known due to its long history. A single-part polyurea coating system is becoming increasingly popular among DIY installers due to its durability and ease of application. 
Moreover, Epoxy Floor installers are now offering one-day polyurea /polyaspartic coating systems, which are extremely durable coatings that cure extremely quickly.If you're looking for an installer in San Antonio, Texas or surrounding areas here are two companies known for Epoxy Flooring installations.
Remarkable

Flooring Projects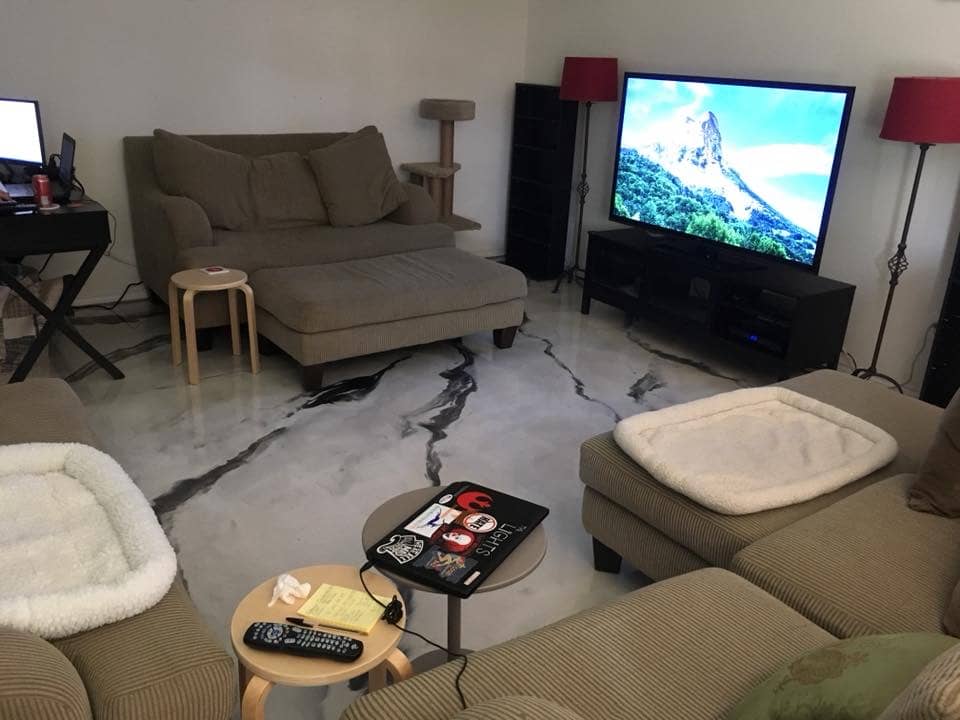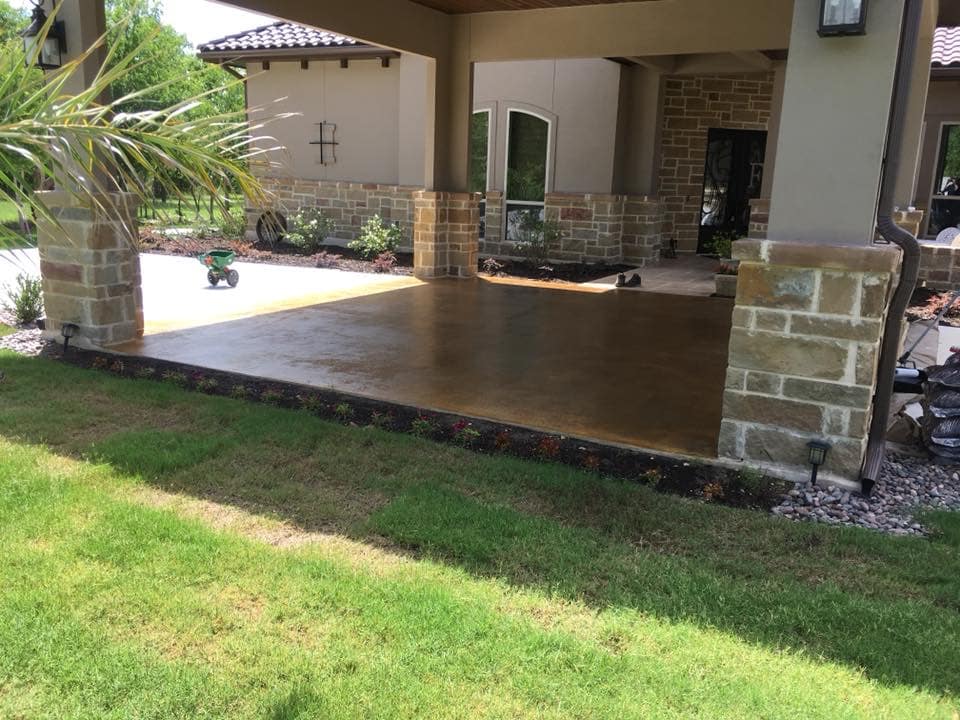 Frequently

Asked Questions